Hindu Wedding in Santorini Greece
I think every bride will agree with me that this is a dream destination Santorini Hindu wedding. It had it all, beautiful flowers, an amazing wedding cake, a boat trip in the caldera, a beach party with fireplaces, music, dances, and a lot more.
Rita and Ajay are an Indian couple who lives, in the Canary islands. They met through friends. Ajay proposed to Rita in a very traditional way. The length of the engagement was 6 months and their romantic affair ended with a destination Hindu wedding in Santorini Greece.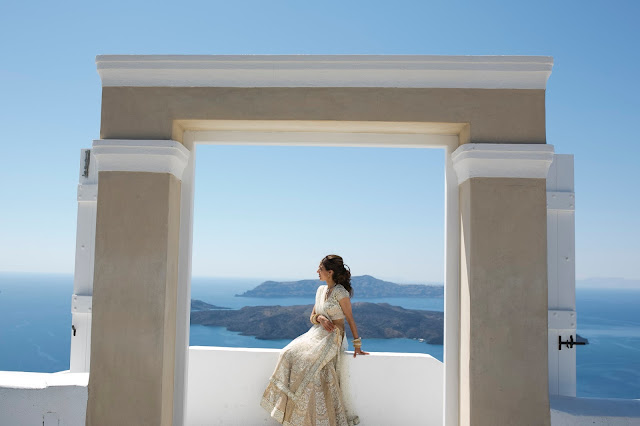 Hindu Wedding in Greece
At Santo winery, a traditional religious Sikh wedding ceremony took place in the morning. The priest was a woman member of the groom's family. Previously a civil ceremony has taken place in Zurich, where, the bride was staying with family members. The Santorini wedding ceremony and reception were attended by around 85 guests and took place at Santo winery.
Santo winery is an amazing Santorini wedding venue overlooking the caldera. After the Santorini Sikh wedding ceremony, a traditional, homemade sweet was served and some refreshments.  Alcohol is not allowed after the Hindu religious ceremony. Santo winery was just the scenery is just a dream. Bright blue colours, and nice weather, add a special touch to the wedding, as well as the colourful flowers.
The Santorini wedding reception was the same evening at Santo winery, starting, with cocktail hour.  Champagne and strawberries are served under the sounds of saxophone music. Then everybody welcomed Rita and Ajay and they had the first dance under the sounds of ´All of Me´By John Legend
All were in beautiful traditional Indian dresses and the bride in a very sick  Indian dress. Then they moved to the reception area and under the sound of Indian music, they start enjoying Mediterranean food. During the reception, there was a lot of fun and there was also some Bollywood dance and belly dance.
Here are some of the bride's comments
They choose Nikos Gogas as our Santorini wedding photographer and he was recommended by our Santorini wedding planner Olympia from Marryme in Greece. We liked his work and we have seen previous work online, and really liked it; very nice, attentive, and creative.
The theme of our wedding was off-white and baby pink and Olympia from Marryme in Greece was involved in all planning in absolutely everything. She suggested the Santorini ceremony and reception place and managed all suppliers.
In regards to my wedding dress, I knew the designer when I saw her wear a beautiful dress of her own creation at a party we both attended, therefore she created one for me, and the design was Indian princess with matching earrings, necklace, bangles.
My hair and makeup were done by Helen Savva, she was, our  Santorini wedding planner's suggestion. She absolutely created the perfect image that I wanted to have.
My favourite part of the whole wedding was being with Ajay and our wedding was unique as it took place in a private idyllic, scenic place. Santo winery is overlooking the caldera, and the colours of the sunset, under the music of the saxophone create a stunning place.
Our wedding cake was the same colors as our theme, and it was a 3-tier cake and part of it was vegetarian for religious purposes.
My advise to other brides is to enjoy the date and hire a wedding planner to do the job for you.
In addition to our wedding ceremony and reception, we had an amazing boat trip on Friday morning at the caldera with some drinks. Then in the evening, we had our Santorini beach party ad a lovely decoration at the beach with fireplaces, romantic lights, and wonderful music. My florist Betty designed a flower dress for my entrance and after taking some photos then I changed. Finally, I attended the pre-wedding party in my Greek-style blue dress.
Overall my wedding was like a dream and I want to thank Olympia. She made my dream wedding to become true in Santorini and also all people participating in this wedding.